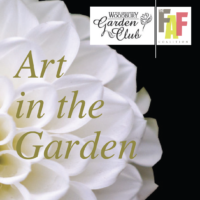 ART IN THE GARDEN is a new collaboration between the Greater Woodbury Garden Club & The FAF Coalition, starting in 2023. For 21 annual events the GWGC has hosted the GREATER WOODBURY GARDEN TOUR that included visiting multiple private gardens the first Saturday of June. It has evolved over time but has included a beautiful "formal tea" at one of the homes of the tour. The proceeds from the event supports a horticulture scholarship fund distributed by the GWGC.
This year, the 2 organizations decided to collaborate opening up greater creative possibilities and administrative support. The 22nd annual event is a unique garden experience including tours of carefully cultivated gardens of all kinds accompanied by visual and performing artists.
The local pool of artistic talent is tremendous and by combining organizational efforts it opened up a spectacular offering and opportunity for both the public and artists. Visual arts include; paintings, drawings, murals, sculpture and mosaics. Some artists are also creating plein aire during the event- adding a dynamic live component. Several performing art are mixed into the landscape to add another layer of artistic creation.
MORE INFORMATION
To learn more or to buy tickets, please visit HERE or use the QR code below.