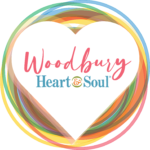 WOODBURY HEART & SOUL
The Heart & Soul model is a catalyst for positive change in small cities and towns. By actively seeking the community's collective wisdom, including those whose voice are often missing, Woodbury will become a stronger, healthier, and more economically vibrant place to live, work, learn, and play.
The FAF Coalition received the grant for the program in 2020 and maintains the lead organization role throughout the process. Kaitlin Rattigan was hired as the program coordinator and together with the core leadership team comprised of local organizations and community members and as part of the Transform South Jersey initiative, our team will lead Woodbury through the established Community Heart & Soul model.
Through this process, we will identify partners, build relationships, determine options for the future, and work together to develop projects in Woodbury that our community cares about for years to come.
Ultimately, the work will be carried on after the 2 year program process through a locally-controlled community endowment fund to support the strategies that result from the Woodbury Heart & Soul process.
LEARN MORE