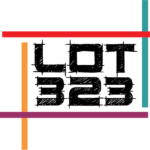 LOT 323
LOT 323 is a POP-UP PARK in the heart of Woodbury, NJ.
From forgotten parking lot to a multi-purpose community gathering space. Starting in 2016, LOT 323 is a semi-permanent venue that hosts events all summer long filled with performances of all kinds, youth & teen games and play equipment, artistic activities and refreshments. LOT 323 is a truly inventive family-friendly Third-Space for the community to gather.
THE SPACE: an urban garden with an industrial motif that is an inviting area to gather, play, remotely work, relax and enjoy light fare and entertainment. This park provides a free venue for the public, as well as a space that can be reserved and used by emerging artists & musicians, other arts and cultural organizations, schools and educational groups. Focal points include a large performing arts stage, Live Painting, a Clotheline Art Sale and playable music sculptures. LOT 323 events are free to all with food trucks on site and craft beer & wine are available for purchase. Check out THE SCENE. Additionally this year several creative programs will continue:
aLOT of Art: 16 artists painting LIVE @LOT 323 events
Clothesline Art Sale: Incredible LOCAL ART & ARTISAN GOODS just hanging on the LOT 323 Clothesline… just waiting for you to take it home!
LOT 323 SUMMER CONCERTS SCHEDULE: LOCATION: 115 S Broad Street, Woodbury  |  TIME: 6:00PM – 9:30PM
Click HERE to learn more about LOT 323 and stay up-to-date on this summer's events.